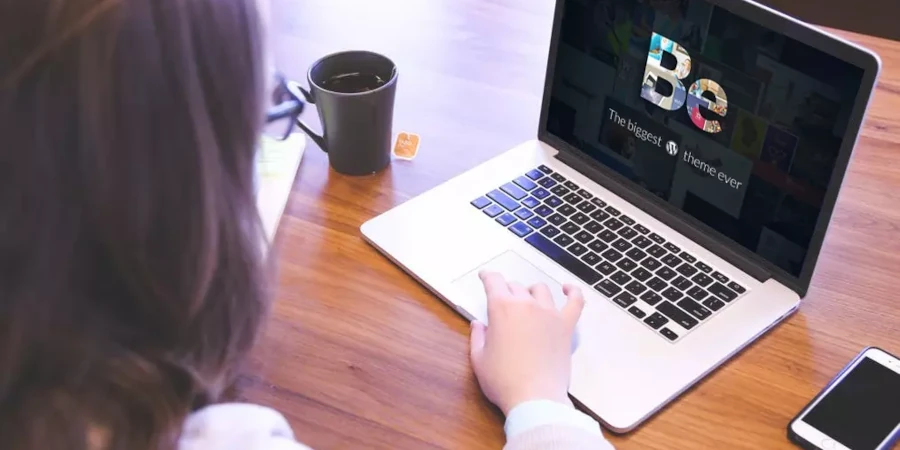 BeTheme & WooCommerce: The Ultimate Online Shop
Starting an online shop can be a tedious process. But with BeTheme and WooCommerce, it can be exciting!
In 2018, creating an online store with WordPress is easier than ever. Coupled with BeTheme, your new endeavor into eCommerce is on the path to success.
Some WordPress developers struggle to find a premium theme with versatility. WordPress offers a vast ecosystem of themes and plugins created by some of the best web designers and developers in the world. Finding the right theme and eCommerce plugin for your business is imperative to building the best possible storefront.
BeTheme was created with both new and experienced website owners in mind. It's intentionally designed to integrate seamlessly with the best eCommerce plugins available for WordPress today.
There are many business aspects to take into consideration when building an online store so it's always best to do your research before investing serious time into unhelpful tools. That's why we're here! Today we're looking closely at specific features from BeTheme that will help you take your eCommerce experience to the next level.
Get Started with WooCommerce Integration
Many difficult aspects of an online store have been streamlined into a free plugin compatible with any WordPress site. Virtual shopping carts, inventory management, and online checkout are freely available to WordPress users via the extremely popular WooCommerce plugin. It's the largest eCommerce platforms for WordPress and it's free. The WooCommerce platform offers a diverse selection of features for your shop.
BeTheme is built with WooCommerce in mind so you'll already have a head start in creating your professional online store to compete for success in an online marketplace. Showcase digital or physical products, apply taxes, set shipping rates, and use geographical information to make real-time calculations for customers. It's all included.
Get Creative With Intuitive Design Tools
Website design is a critical element for your success, but in the world of eCommerce, shop design can directly impact conversion rate. To put it simply, a poor website design often makes less income; less money.
BeTheme is bundled with a wide array of tools to help create incredibly professional, modern eCommerce stores. The BeTheme developers provide a plethora of features to showcase products, promote campaigns, create stunning call-to-actions, and more!
BeTheme is designed with beginners and professionals in mind. If you're not sure where to start, try one of the pre-built themes available to BeTheme users. If you're a pro, however, you'll need as much room as you can to create the shopfront of your dreams. Implement specific details, integrate your brand, and bring a thorough finish to entice your customers.
BeTheme comes packaged with a unique block-based builder interface that will allow you to quickly build out your own pages. Websites are constructed using blocks. These blocks can be images, text, sliders, videos—almost anything. It was developed by Muffin Group and thrives today with over 30,000 users!
Reach The Right Customers With Strong SEO
If you're going to run an online shop, you need to reach your customers. One of the most effective ways to reach new customers is to make yourself available to them online. Social media aside, it's often crucial in a given market to rank highly in search engine results. After all, when customers are looking for what you're selling, you want to be in front of them.
The process of gaining this leverage is handled through Search Engine Optimization. Websites need to be optimized with appropriate keyword density, content length, and a combination of factors that help push your store into their line of sight.
BeTheme was created with a foundation of SEO in mind. You'll find customizable fields available on pages, posts, and more for SEO. These fields allow custom SEO descriptions and keywords to help place your shop in front of the right customers.
It's not uncommon for WordPress users to implement third-party plugins to monitor SEO. BeTheme is compatible with common SEO WordPress plugins including All in One SEO and Yoast SEO as well.
Get Crucial Data By Tracking Customer Behavior
Setting up your store can be super easy with BeTheme. But over time, you'll need a shop that can handle the influx of customers. Monitoring your customer behavior and experience is critical for any business—and eCommerce is no different!
An effective website design is difficult to create on the first try. When optimizing an eCommerce store, developers often track customer behavior over an extended period of time. It's important to look for popular areas, ineffective designs, or anything that can optimize your user experience.
The dev team structured BeTheme to handle many users from any device. When tracking customer information, you can enjoy reassurance that the user experience will be delivered consistently across these devices. But what methods of customer tracking are available?
BeTheme is compatible with multiple third-party plugins. One of the most popular analysis tools is Google Analytics. This app, developed by Google provides incredibly valuable information about website traffic. And best of all? It's free.
An Ideal eCommerce Store Is…
Versatile – BeTheme is one of the biggest themes available on WordPress. Its uses extend to an endless assortment of industries. One of the biggest reasons it has continued to thrive is due to its extensive plugin compatibility.
Reliable – The development team provides great consideration to quality and speed for professional end results. The team ensures this consistency over time by providing regular updates every Friday for its user base.
Customizable – Shop owners will need as much control as possible when customizing their online shop. eCommerce is heavily reliant on consistent branding and high-quality design. BeTheme is ready to handle new and professional users with an extremely versatile design interface.
Building an online eCommerce store with BeTheme is not only possible, it's incredibly easy with WooCommerce. Newcomers and professionals alike can benefit from the intuitive construction tools to achieve professional results.
Build your own design or choose from one the hundreds of themes available to BeTheme users. It's time to stop worrying about code—focus on what's important in your online shop.