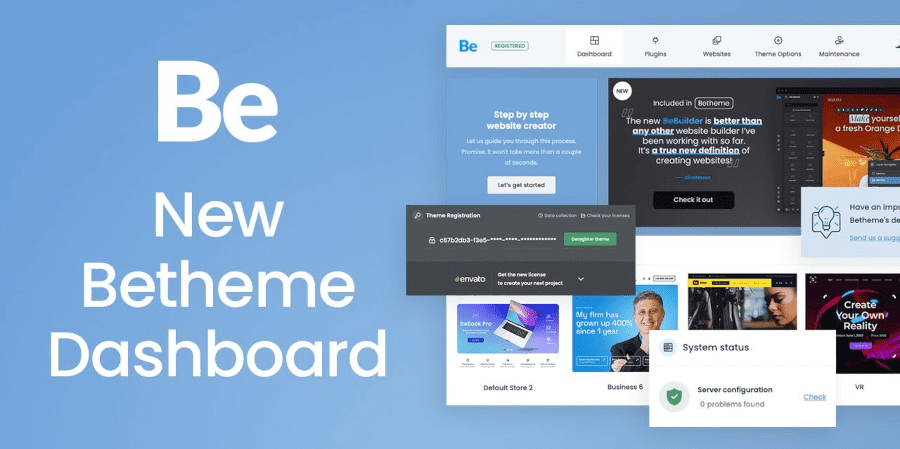 New BeTheme Dashboard: All the Features You Need to Know About!
The Muffin Group, known for their unique and easy set-up templates for WordPress, has recently launched the newest version of their highest-selling theme-building product BeTheme. BeTheme is a multipurpose, one-stop-solution, premium WordPress theme builder that is used by numerous industries for creating all types of websites.
BeTheme was introduced in 2014 and since then it has become one of the most sought-after theme-building products. BeTheme has also undergone several updates and enhancements, making the newer version more and more responsive and user-friendly, with the introduction of new theme packs.
Muffin Group has recently introduced Version 26.5.0.2 of BeTheme, and we cannot stop talking about the incredible features of the newest dashboard. So let's get to know all about it!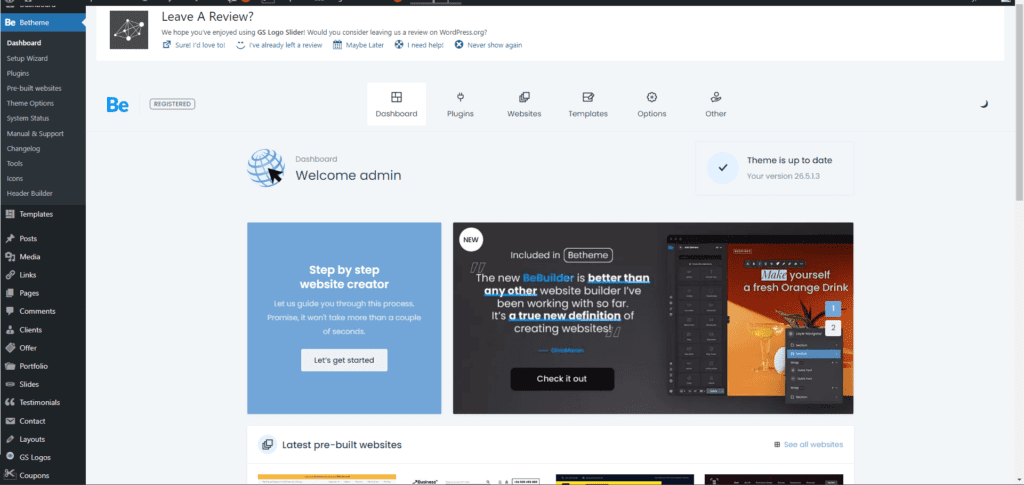 Newest BeTheme Dashboard
The newest BeTheme dashboard is completely fresh and reorganized – if you have already downloaded this version, you will be surprised to see the change in the layout and the addition of some useful features.
When you click on "Dashboard" on the top, you will find a new page with tabs and information boxes. On the right, you will find a box that will let you know whether your version of the theme builder is up to date or not.
You will find the Set-up Wizard in a blue box on the left side of the screen. The Set-up Wizard is now an updated and much easier version of the one we used before. It is a step-by-step website creator. You can find it in the drop-down menu under "maintenance" so you can configure your website.
Here you can find your "set-up type", whether it is for a pre-built website or a website from scratch. You can find a tutorial for the Set-up Wizard that the company will soon share.
Right beside the "Set-up Wizard" on the dashboard, you can find a slider where the company will be sharing crucial updates and features that have been added to BeTheme. You can use this section to learn more about the theme builder.
Lastest Pre-Built Websites
Below this section, when you scroll down on the dashboard, you will find the "latest pre-built websites". You can find the same information on the top, where we found the "dashboard" button – besides, it is "plug-ins", and right beside that is "websites". On this tab, you will find over 600+ pre-websites that are included in BeTheme, and you can sort these websites into different categories, such as based on their layouts and subjects. You can also find websites based on your requirements by searching a keyword in the search bar above.
BeTheme now also offers easy theme registration. Below is the "pre-built websites" option on the dashboard; you can find this option below. This tab will show you a code with an option where you can register a theme.
Next, right below this, you will find the important BeTheme Integrations. At this point, there are three important integrations, HubSpot, WPML, and Toolset. You will find an option to buy these integrations with a button saying "Buy Now."
Right beside the dashboard on the top, on the first page, you will find the second tab, "Plug-ins". This page includes information about a plug-in that comes with BeTheme, such as Yoast, Elementor, LayerSlider, WPBakery, etc. Here, you can install, activate and update these built-in plug-ins very easily.
System Status and Server Configuration
Once again, at the top, on the extreme right, besides theme options, you will find a tab called "maintenance". Here in the drop-down menu, you will find "system status" right under "Set-up Wizard". Here, you can find all details about the service environment and WordPress settings. This information is also found on the dashboard; it shows whether there are any issues with the server configuration or not.
Now that you know the brilliant features included in the newest version of BeTheme, we are sure you are excited to use it yourself. So don't wait further and download the newest version to enjoy the updated features on the dashboard!