How to Import Pre-Built Websites (Video Tutorial)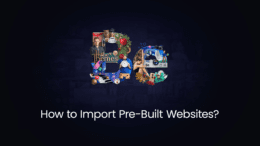 ---
How to Import Pre-Built Websites
Especially as a WordPress freelancer who provides services to clients, these pre-built websites are the killer feature that sets BeTheme apart from its competition. Especially as you begin to leverage BeTheme as a WordPress Freelancer, you'll become very familiar with the process of importing any of the 650+ pre-built websites that come with BeTheme. Not only do these pre-built websites save you time and help you meet project deadlines with ease, but the quality of work that you'll be able to produce will be top notch.
Pre-built websites are not meant to be "design aids" or to show example layouts of what BeTheme is capable of, they are actual pre-built websites that you can use as a starting point for any project. They will save you time, increase your productivity and lead the way to building awesome websites that your clients will love.
They take one click to install, they are completely customizable, responsive, retina ready, and they feature special effects that will knock the socks off of your clients. So how do you install one of these good looking pre-built websites?
How to Get and Install BeTheme
Get BeTheme from Themeforest here →
Next, you'll need to install the theme itself: Go to Appearance > Themes and then click on the blue Add New button.
Click on the blue Upload Theme button and select the .zip archive that you had downloaded from Themeforest.
After installing the theme you'll be prompted to install the plugins that go along with it. As shown in the video above, click on the top notification from the page and install the plugins that are required as well as the optional ones that you may need to use.
Next, we recommend removing the widgets that WordPress imports by default to make sure you don't have extra junk in your sidebars.
Now go to the Pre-Built websites section by going to Appearance > BeTheme Pre-Built Websites. Here, you can browse all of the pre-built websites that BeTheme has to offer.
There are over 650+ designs to choose from and there will be a new one added every week! As you browse the available designs, not that you can filter the pre-built websites to find exactly what you need. You can find a pre-built websites for your business or entertainment website, for a creative portfolio, a blog, agency, one-page, or a shop! You can also search by using the search form as well.
Importing a Your Choice of Pre-Built Website
Click on the design's thumbnail and you'll see more information. If there are any plugins that this pre-built website needs you'll be notified here.
You can also click on the "Live Preview" to see a concept of how your site will look, as well as the great looking pages that come with it. Having these content templates to use as building blocks will save you hours of time.
After you've clicked on the install button, you'll be prompted to do a database reset, that's not mandatory.
You can also do the import on an existing site. If you do that, you need to know that the current theme options will be overwritten. Note that the new pages or posts that come with the new website will be added as well. A lot of users want clear and new installations so "this option is for that".
Once pre-built website has bee installed the only thing left to do is install the slider. Click on Import Slider and select the .zip archive made for your choice of pre-built website. You can find these archives from the BeTheme .zip archive that you downloaded from Themeforest.
Change your Mind?
If at any point you're unsatisfied with your choice or would like to start over with a clean slate you can start from scratch by going to
Installing the database reset plugin.
Once installed and activated we'll have the option to install the complete rebuilt website or selected data only.
Go to Tools > Database Reset
Now activate BeTheme and it's plugins again
Like we had done previously, make sure to remove the default widgets.
Then you can go install the pre-built websites again by following the same steps from above.
That's it! You now have a completely designed and built website ready for you to edit!
---
1
I get an error after trying to import… Help!
2
I can't seem to install the required plugins?
Make sure to download and install "All files and documentation" .zip from Themeforest instead. That one includes the plugins.
4
Do I need a license for the Visual Composer plugin?
Becuase the Visual Composer plugin comes bundled with all future BeTheme updates, you don't need to purchase separate license. Instead, you can update the plugin when you update BeTheme.
---