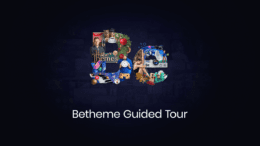 ---
BeTheme Guided Tour
Hi. Welcome to the BeTheme Guided Tour.
The video above will show you an overview of this versatile theme. Among the many features that it has, you'll get to see the new and improved Muffin Builder, useful shortcodes, pre-built websites, the Visual Composer and Revolution Slider plugins, and a lot more; all included with BeTheme.
The theme has an easy-to-install procedure. You'll first need to get the package from ThemeForest and install it on your website. This can be done through the WP admin section or directly with an FTP client. It is a simple process that I'll discuss in more depth in one of the following tutorials.
After installing the theme, you'll be prompted to install the plug-ins that go along with it. Click on the top notification from the page and install the ones that are required plus the optional ones that you need to use.
And there you have it. Your theme is installed.
You'll need to customize it now to suit your website's needs. But before that, let's go through an overview of this great-looking theme.
The BeTheme options panel has been created to make your work faster and easier. Using it is easy and with it you can do a lot in a few minutes.
Let's say you have a certain header structure in mind for your website, what do you do? Code it? No. You simply select it from the many header layouts and click "save changes."
Want to change the general colors of the website? How about individually for the elements in the header? – Content, footer, widgets, headings, and shortcodes. For that, go to the color section in the theme options panel and have fun changing the color for the elements you want.
Now, it happens that you saw a cool-looking font in the Google fonts catalogue and you want to use it on your website. Should it be difficult to add on your website? Absolutely not. You can do that with a few clicks.
Sliders are everywhere these days and it would be a shame not to have one yourself. Luckily for you, Revolution Slider, a popular premium plug-in, comes bundled with the theme.
Have I mentioned Muffin Builder? You will enjoy working with it. This page builder makes creating a website fun and easy. A page can be split into different work sections. You can choose your colors, backgrounds, layouts, sidebars, classes and more.
I've kept the best for last. With this theme, you are getting more than 240 pre-built websites that you can install with one click. You simply need to go appearance, BeTheme pre-built websites, and choose what you want to install. You can either select the whole pre-built website, just the content, or theme options.
---
1
My page updates or changes are not saving? Help!
Especially if you have a large/long page with lots of layout builder settings, you may notice that your page changes or updates are not saving.
This could be the result of a memory overload that can by fixed by following these steps → 
2
Where can I find more information? Documentation?
The
BeTheme Documentation
or "User Guide" is a fantastic resource for sorting through all of these settings.
---