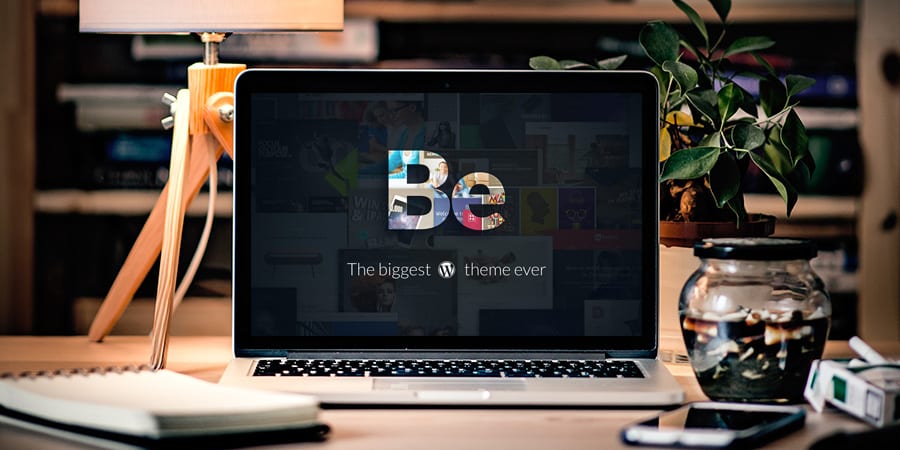 How to Leverage BeTheme as a WordPress Freelancer
BeTheme is a game-changer for the WordPress freelancer. Not only because it's a responsive multi-purpose powerhouse of a WordPress theme, but because of its incredible selection of pre-built websites, it can give you a huge head start on any project! Here's how to leverage BeTheme's capabilities for a profitable edge in your freelance web design business.
Here's the Gig
Let's say you're starting a new website project for a friend who is just getting their photography business off the ground. She needs a new portfolio website that looks great, is mobile-friendly, and is SEO optimized. And of course, it needs to look "modern" but also give off a "warm and welcoming" vibe… which is usually as far as you may get into the conversation before the topic of price usually uncovers that "It would be great if this could be done on a shoestring budget."
There's nothing wrong with those project requirements and we've all had that high-level discussion to get the ball rolling, but that doesn't give you a lot to work with. We've all been there. Yet, as the expert who has been down this road before, the client is looking to you for guidance.
Nonetheless, you're happy to help as you attempt to provide a project quote based on the effort, complexity, and amount of time the project might take – an impossible guessing game. It's always a balancing act to discuss how you might accomplish the client's goals within the budget they have in mind… while trying not to over-promise or set unrealistic expectations.
How to satisfy the need for a great-looking website while keeping the project within the scope originally quoted?

---
Recommending BeTheme to Your Clients
Because of the incredible popularity of WordPress, there are thousands of "themes" built by some of the best designers and developers in the world that are not only incredibly powerful but very affordable! Instead of starting from scratch, I often recommend to a client that we find a $60 WordPress theme that will give us a huge head start for a fraction of the price. BeTheme is a great choice.
From there, I explain that I'm available to make the necessary changes to the theme's design or build specific features that the project may need beyond what's already included. Here's the punchline: "As you can imagine, this process has proven to be especially efficient and cost-effective! From what you've told me, I think we can knock this out for, $___ ."
The price tag I offer here is something I can predict; a packaged or "productized" service. Then, anything beyond that pre-defined scope can be billed at an hourly rate. I would explain the rationale behind the pricing to my client like this:
"We're going to go on a journey together, so instead of breaking down the requirements of your project by line item and then holding you to your earliest ideas, I'm committed to reaching your goals with you. This price point is very much an estimate based on past experience as to how much time and effort I expect to invest into this project with you. I promise to be candid about the amount of time, I'm putting in as we go along and, if I feel we are pushing the limits, I'll be sure to let you know well in advance. As a general rule of thumb, I'm available at $__/hr for anything you need, but I'm always happy to discuss how we can accomplish your goals within the budget you have in mind."
I've only established a price tag on what I know I can deliver predictably. The WordPress installation, theme set up, plugin configuration, and a set number of hours to edit the design, add features or help with importing content.

---
The Features that Set BeTheme Apart
If you design or build websites using WordPress, then you likely have a process; a method to the madness. Whether it's a set of essential plugins, saved code snippets, or even a list of standard email copy templates that you use often with clients, we've all got our favorite tools that help us do our job more efficiently. For the WordPress freelancer, BeTheme is a game-changer for several key reasons.
650+ Pre-built Websites with One-Click Setup
Muffin Builder: Its Own Built-In Page Builder
Packed with Features for Limitless Customization
Theme Updates Every Friday! And it's compatible with everything!
---
BeTheme Layouts: 650+ Pre-built Websites with One-Click Setup
The most unpredictable part of any project will be the website's design. It's entirely subjective and the client's final approval always depends on their own tastes and opinions. Even if you are an incredible designer with years of experience and offer up the best work you've ever done, it's human nature to tweak and improve the first draft to make it just a little better. The client will always provide their two cents or request changes simply for the satisfaction of giving input; of making the design just a little better.
To overcome this problem, I point my client to the incredible number of well-designed pre-built websites that BeTheme provides that can be installed as a starting point for any project with one click! After all, by allowing the client to choose a starting point for their website's design we get an enormous head start on the project by skipping the guesswork of a website's design. For the client, that also gives them some sense of choice in choosing a look and feel rather than hoping a web designer captures their vision.
No other WordPress theme has this many pre-built designs to choose from!

---
Muffin Builder: Its Own Built-In Page Builder
The Muffin Builder that comes packaged with BeTheme is lightweight, fast, and built into the core theme which means there won't be conflicts or weird bugs that you might encounter by installing another page builder plugin. Here's a preview,
Not only can you provide the client with a vast selection of pre-built website designs to choose from, but content layouts from any of the other pre-built website designs can be imported selectively! If the first pre-built website design your client chooses, doesn't include a specific page layout that you made end up needing, you can import another pre-built website design into another WordPress installation like a staging website and then export the specific page layout from there to then import it into your client's website to use. Styles get applied from your primary site, but content and layout will be imported from the staging installation.
That import/export feature alone has saved me countless hours of time.

---
Packed with Features for Limitless Customization
Your choice of WordPress theme will ultimately determine how efficiently you can knock out a new website and customize it to your client's liking. BeTheme provides me with an arsenal of tools and the latest in web trends that I have rarely found myself being asked by a client for a feature that BeTheme didn't already have built-in. The flexibility that gives me ensures that the tendency for scope creep doesn't bring the frustration to a project that it used to. I'm not as concerned with an additional request from a client to integrate something like an accordion tabbed section or multi-column layout because it's no big deal – those features are already built. I just drag and drop to satisfy a client's request. Done!
The best part is, I end up looking like a hero because I didn't complain or push back as other web developers might have in this situation. My client is thrilled with how accommodating and easy to work with I am. Thanks to BeTheme!

---
Theme Updates Every Friday! And it's compatible with everything!
Because BeTheme is such a popular WordPress theme on ThemeForest, the largest theme marketplace in the WordPress ecosystem, the number of users that rely on it is always growing. The competition to hold those top spots on ThemeForest is fierce because it means significant revenue for the theme developers. With those ever-growing sales numbers comes an increasing appetite from BeTheme users for new features, cutting-edge web trends, and a larger range of plugin compatibility with other popular plugins like Visual Composer,  Revolution Slider, and Gravity Forms, WooCommerce, WPML, etc.
By using BeTheme, you're guaranteed regular and consistent updates that not only ensure BeTheme stays up to date with the latest web trends but also means they you receive regular security updates and bug fixes. Its popularity keeps it under a high standard of scrutiny to perform well and stay updated regularly. It is a trial by fire that sets the bar for quality at the highest levels.
Peace of mind is a wonderful thing.

---
What about Licensing?
If you're going to be using BeTheme for your clients, you need to be aware that Themeforest explicitly states on their Licenses page: "You may charge your client for your services to create an end product, even under the Regular License. But you can't use one of our Standard Licenses on multiple clients or jobs." – The idea here is to prevent purchasing BeTheme once but then using it for as many clients/projects as you'd like. That's piracy and not exactly fair to the theme authors who make their living from doing this.
Instead, make sure to recommend BeTheme to your clients but request that they purchase a Regular License themselves. Once they have purchased BeTheme with their own Themeforest account, then you're covered in using BeTheme for their project.
---
Final Thoughts on BeTheme
At the end of the day, your freelance business will depend on how efficiently you can provide the service you're being hired for. Take a quick look at this inspirational video that will wet your appetite for the speed at which you can build a website.
Like any powerful tool, BeTheme will certainly come with its own learning curve. But once you have learned its options and understand the features it provides, BeTheme can provide a profitable edge to your freelance business that will optimize your output.
Take it for a spin. It's awesome!