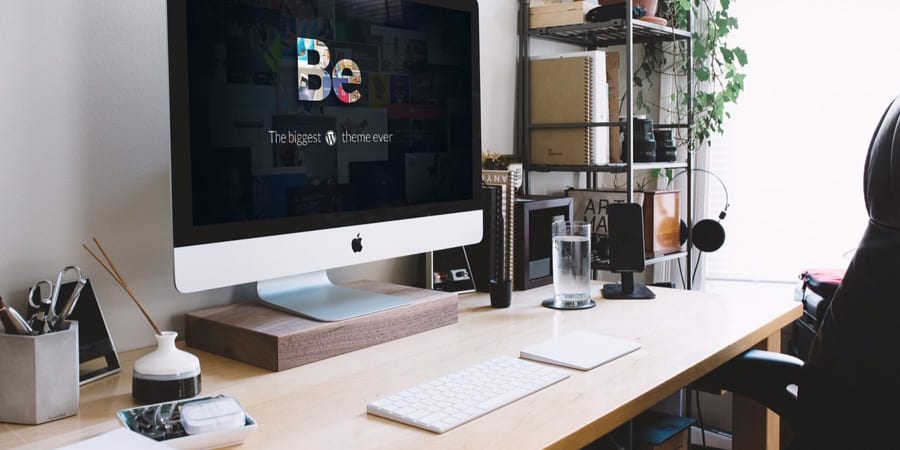 Crucial BeTheme Features For Marketers
Choosing a WordPress theme can be a daunting task—but it doesn't have to be! When approaching as a marketer, there are many elements to consider. A usable website should be accessible, modifiable, and easy to use for everyone involved.
BeTheme is one of the biggest WordPress themes available today! It's bursting at the seams with useful features, incredible flexibility, and an intuitive user interface. But can it handle digital marketing in the modern age?
In this article, we've broken down BeTheme to its bare features and picked out everything crucial for modern day marketing. From concept to conversion, BeTheme could be the most critical tool for your website!
Integrating Your Brand With BeTheme
Integrating your brand is easier than before. BeTheme offers a wide range of tools for brand integration. The crucial aspects of brand identity are quickly incorporated with a simple user interface.
A strong brand creates a sense of familiarity with every aspect of design—typography, logos, colors, and more. These visual cues need to be reiterated throughout a given business model. When consistently applied, these markers help construct what customers recognize as your brand.
Marketers can apply consistent assets like logos and favicons through one user interface. Updating the asset from a single location replicates the design across every page. Display a single logo or apply a custom logo for mobile users. Even sticky headers can be given a unique logo to display.
Brand colors are easily applied to the entirety of the website. While the colors can be set globally, single pages and individual elements can be customized with their own respective colors. BeTheme is constructed to recognize common color values such as RGB and hexadecimal. However, it also comes packed with a user-friendly color picker.
The tone of your brand is easily solidified with the addition of typography options. Users can easily upload new fonts to be used on the website. These fonts can be specifically allocated to individual pages or even used as a site-wide rule. Control every aspect your typography from headers and menus to body text. Set specific rules for different bodies of text including font size and weight.
Be Ready For Every Device
The benefit of modern technology can sometimes overshadow its complexity. We may take for granted simple things like the ability to buy things on both our computer and our phone. It's not uncommon for websites to receive users from a multitude of browsers and devices.
Successful website owners must consider the compatibility of their website for all of these potential users. What looks great on a desktop doesn't always translate well to mobile devices—for example, the ability for text to wrap inside a screen instead of trailing out of view. For a marketer, these small details can impact conversions.
BeTheme is prepared to help website owners feature their content with attention to cross-compatibility. Websites designed using BeTheme are coded to work within a wide selection of devices and browsers.
Major Supported Browsers Include:
Chrome
Edge
Firefox
Internet Explorer
Opera
Safari
Optimize Your Website With SEO
When competing in a market, you need to have leverage. In the modern age, that leverage is a high ranking website on search engine results. The process of optimizing a website to rank in search engine results is known as Search Engine Optimization (SEO).
Proper SEO can be a driving force in website traffic. Awareness in the search engine world means more eyes to reach your valuable content. Marketers can use BeTheme to prepare their website with incredible attention to SEO.
BeTheme is constructed with modern SEO standards in mind. Marketers can address individual pages or site-wide SEO issues. It's also is compatible with a few additional SEO plugins including All in One SEO and Yoast.
Pages feature optional sections for specific SEO modifications. Some search engines, such as Google, consider usability factors like speed when ranking search results. BeTheme was specifically constructed by a team of developers for fast, professional results. The team offers consistent reliability to their users through weekly updates, always keeping BeTheme up to date with current SEO standards.
Build Campaigns With Easy To Use Design Tools
When it's time to run a marketing campaign you need to place assets quickly. Banners, photographs, and promotional content are used in many different areas on a website. BeTheme gives marketers a chance to update these assets quickly and efficiently.
Logos, headers, and more can be updated immediately through a clear user interface. Pages are built using blocks. These blocks can contain different types of content such as text, video, or code. BeTheme allows users to modify this content within a matter of seconds.
BeTheme also includes the use of shortcodes. These shortcodes can be used throughout the website design process. Shortcodes allow users to place different elements—such as buttons or even add-ons—into almost any area of your website.
Visual elements are crucial in storytelling and design. BeTheme can be used minimally or with great complexity. Professional design elements such as parallax scrolling are easily added with a few clicks. The capabilities are often limited by the imagination of the user.
Creators have proven it's flexibility through a wide variety of uses. Some users build beautiful one-page websites while others have proven its capabilities as a working shopfront. Designing with BeTheme is a quick, painless, procedure with quality end results.
A Proven Record Of Success
When creating a powerful website, a solid foundation is critical. Give yourself leverage as a marketer and take advantage of the flexible tool. BeTheme is one of the leading WordPress themes available today.
It delivers an easy to use platform with incredibly professional results. The development team supports thousands of users on a weekly basis—via regular updates every Friday. BeTheme has a proven record with an average rating of 4.8/5 on ThemeForest and over 100,000 sales.
BeTheme isn't another fill-in-the-blank WordPress theme—unless you want it to be, there are over 350 pre-built web pages to choose from! With BeTheme, you create the website you need simply and effectively.