How to import pre-built sections?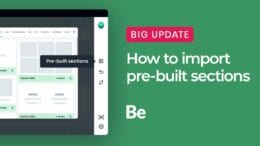 How to import pre-built sections
Here's how to import pre-built sections in BeTheme using the Muffin Builder 3,
If you're creating a new page, click the Start Creating button.

Then click the pre-built sections button to create a new section (or use the icon in the side menu on the right).

Here you'll find a list of all pre-built section which are divided into categories. Awesome, right?!

Now let's add a couple of pre-built sections to our page. You might start with some boxes, followed by a call to action, a simple text plus image section, and then a contact section to finish it off. When you're done just to close the window and you'll see all of the pre-built sections have been added to our page. All of the items come filled with placeholder images and text. This way you can see how they look when all the fields are populated.
Update or publish your page and check it out. How's it look?
Pre-built sections allow users to create whole pages with just a couple of clicks. We'll be adding more of them in the future to make your building process faster and more straightforward.